When I was in London last December we went to the Tate modern to look at some of their exhibitions. I hadn't been there before and I was deeply impressed by the building.
It is an old powerstation and one of the exhibition rooms is a vast hall with a ceiling that seems to tower kilometers above the ground.
I was particularly taken by one special artwork. It's called 'Sunflower Seeds' and is by Ai Wei Wei, a Chinese artist.
Just a heap of sunflower seeds… but each individual seed has been handmade from ceramic and hand painted by small family enterprises in the poor parts of China, a country famous for its ceramic pottery. Thus the artpiece combines a love for nature with a bow towards the traditional handicraft of the artist's homecountry whilst at the same time bringing those people work and money.. I thought it was such a moving idea. Simple, elegant, compassionate… absolutely enchanting.
I was in that room forever. I just couldn't bring myself to go away, it was so fascinating to look at this heap of beautiful things…
Later, I found out that the original artpiece was part of a series of installations called 'Unilever Series', that was exhibited in the vast turbine hall that I had found so impressive upon entering.
Wei Wei had covered the entire floor of that hall with almost 100 million handcrafted sunflower seeds! In the beginning, people could even walk on them! (Then they closed it off for fears of health and safety… )
I'm sad I missed that (It was exhibited from October 2010  –  May 2011), it must have been marvelous!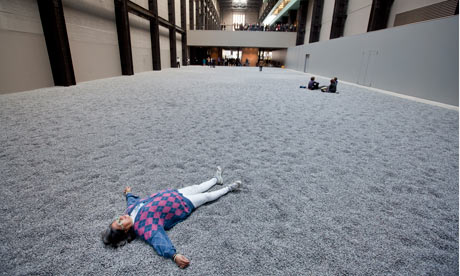 But if you have the chance, do go and see the smaller installation, it's still so worth it!